Whole30 Harvest Chicken Salad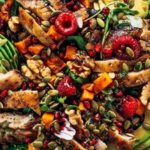 You'll never say salads are boring again after trying this one packed with healthy ingredients!
Chicken
4 chicken thighs (boneless, skinless)
1 tbsp rosemary (fresh, minced)
1 tbsp sage (fresh, minced)
1 tsp garlic powder
1 tbsp olive oil
salt (to taste)
pepper (to taste)
Sweet Potatoes
1 large sweet potato
2-3 tbsp olive oil
1 tbsp arrowroot flour
1 tbsp rosemary (fresh, minced)
1 tsp himalayan pink salt
1/2 tsp red pepper flakes
Dressing
1/3 cup balsamic vinegar
1/4 cup olive oil
2 tbsp maple syrup (substitute date sauce for Whole30)
1 tsp stone ground brown mustard
1/4 tsp Himalayan pink salt
1/4 tsp red pepper flakes (optional)
Salad
4-6 cups spring mix lettuce
4-6 cups baby arugula
1 cup pomegranate seeds
1/2 cup walnuts (raw or toasted)
1/4 cup pumpkin seeds (raw or toasted)
1 avocado
Heat a skillet over medium heat and drizzle with olive oil.

Trim fat off chicken thighs, then place in a bowl with spices and olive oil and toss.

Set chicken on skillet and cook until crispy and golden on each side, about 10-15 minutes.

Once cooked, allow to set then slice into strips and set aside.

Preheat oven to 425*F and line a baking tray with parchment paper.

Cut sweet potato into bite size cubes, toss with spices, olive oil, and arrowroot flour.

Spread out on a baking tray lined with parchemtn paper and bake on 425*F for about 30 minutes until golden. Once cooked, set aside for later.

In a jar or blender, add ingredients for dressing and shake or blend until smooth, then set aside for later.

In a large bowl or serving plate, layer greens, chicken strips, sweet potatoes, the rest of the salad toppings, and top with dressing before serving.
Photo from: https://paleoglutenfree.com/recipes/whole30-harvest-chicken-salad/