When the Charlotte Marathon rolled through town last November, I was brand new to the Queen City. Still, I laced up my shoes and ran the half marathon. I didn't train on the course, was unprepared for the hills and hardly knew a soul at the start line. That morning, driving in the pre-dawn darkness to an unknown parking deck, warming up by myself, running by myself and crossing the finish line by myself, I didn't feel like I belonged to Charlotte.
Thanks to the vibrant, inclusive and growing fitness community, all of that changed. Pretty quickly, really. Between the TriYon running group, Fit Atelier's fitness classes, Charlotte Running Club, Jamie Scott Fitness, and Instagram, I entered 2018 with a community of friends and some pretty tight quads. My new circle encouraged and cheered me on through Boston. We ran Saturday long runs, pushed through battle ropes workouts, and crushed dozens of SCLPT Method squats.
So, when the Charlotte Marathon came around this year, I took a different approach. Instead of running the race for myself, wouldn't it be fun to run for someone else? Much like cousin Allen ran Boston for me and with me.
My boyfriend, John, and our good friend Coleman, chose Charlotte for their first full marathon. Perfect. For the first time in my running career, I committed to pacing instead of racing. (Meaning, I run with them at the pace they choose instead of running as fast as I can for my personal record.)
Race Day
It is 6:30 a.m. Cold. The sun won't rise for another hour. I'm alone in my car, following John and his parents to the start line. The Dilworth neighborhood is quiet and still.
Race day.
As we turn the corner onto Tryon Street, the city shines hundreds of lights, bright and brilliant against the dark morning sky. I smile so big. This is my City.
I park in a deck I know well with John and his parents. We walk into the Knights' stadium for bathrooms, and immediately run into friends and friendly faces. There's Aaron! And Michael! There's John's friend from work!
Coleman, John, and Michael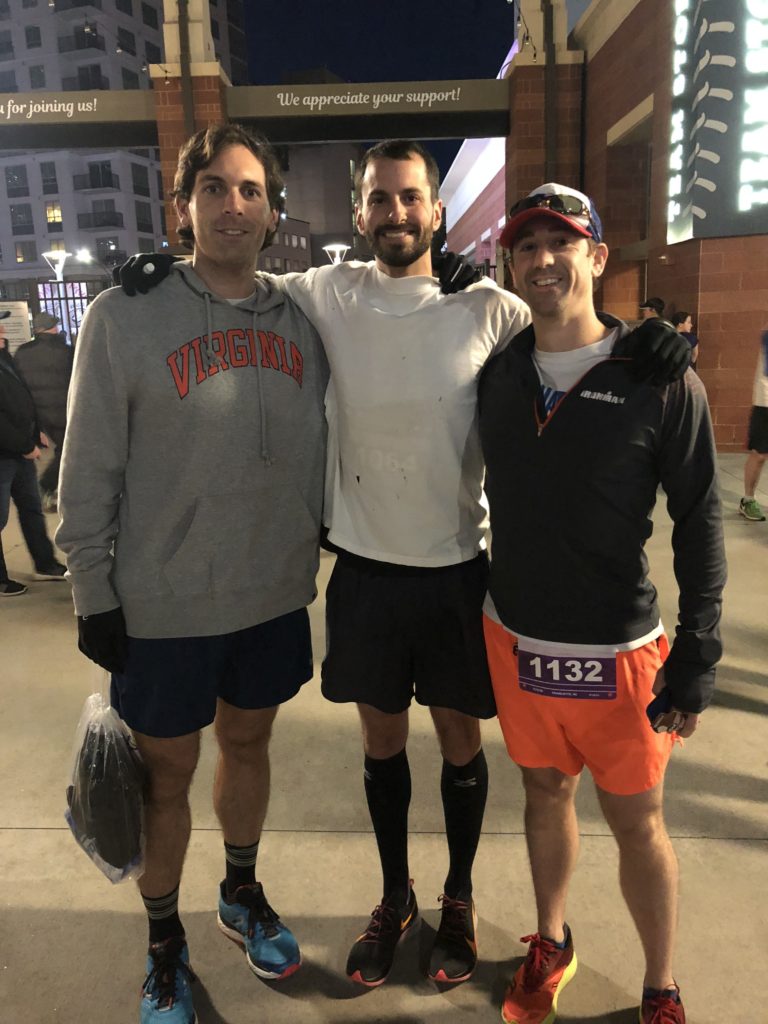 Mr. and Mrs. Touloupas brave the cold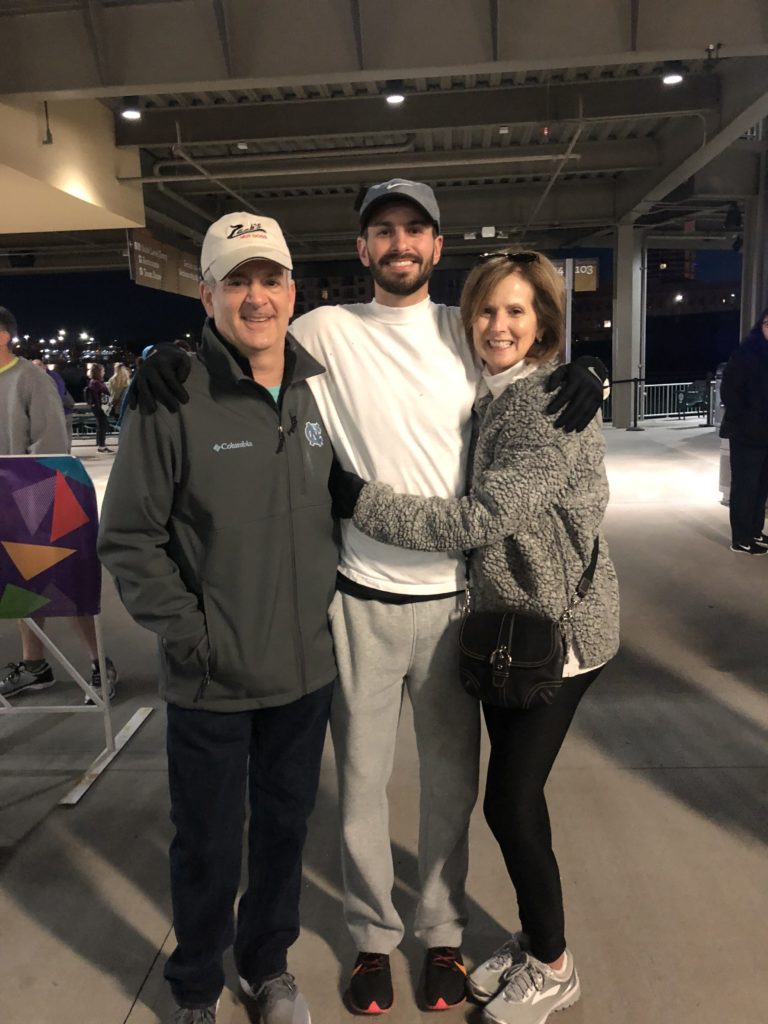 John, Coleman and I warm up near the start line.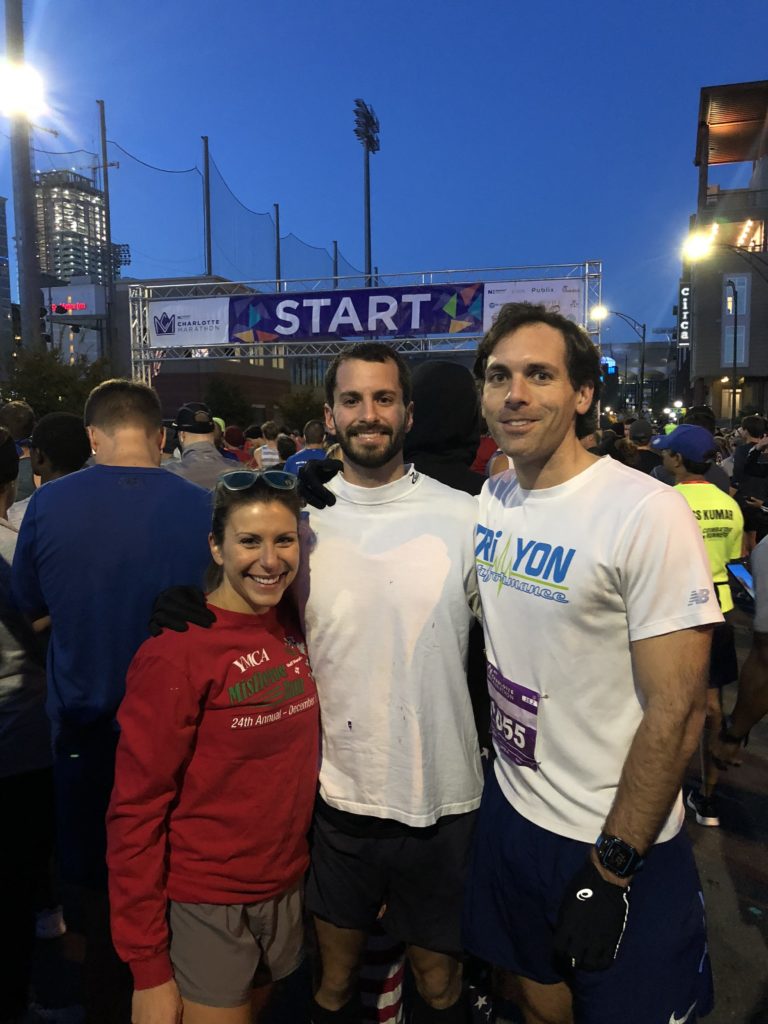 In the first mile, our friend Jane jogs by, we wave at John's family, and our TriYon friends dressed in 80's prom attire.
The sun begins to rise. I remember to say my words of gratitude: thank you for my legs, my lungs and my heart. Thank you for the ability to run.
We wave at Brit, part owner of Fit Atelier, and her family. I shout and pull down my shirt to show her I'm wearing a sports bra that I bought from her store. Look! It's Lilybod! My favorite!
John and Coleman take each challenging hill one step at a time. We've trained on these hills for months and know what's coming.
Another glimpse of John's family in Dilworth and up the Morehead hill, I know my 13 miles with the guys is almost over. As we make our way up Mint Street, I capture this picture of John and Coleman running towards the City.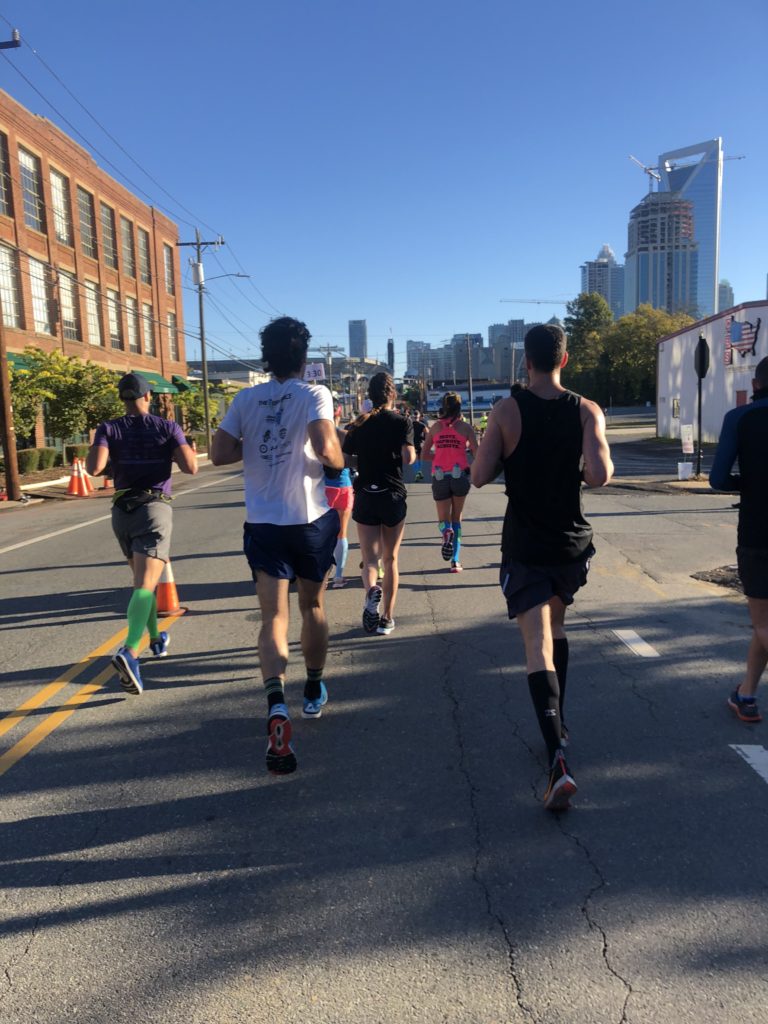 Then it's time for my pep talk with the guys: in the last six miles, you'll have to dig deep. Focus in on your breaths, it's all mental at that point. You've trained for this. You can do this. Have fun. And then we part ways. I sprint through the finish line and immediately run into friends I've met throughout the year.
My girl, Melanie, the other part owner of Fit Atelier, decided to set new goals for the half marathon and runs a 20 minute PR! She's already signed up for the full marathon next year.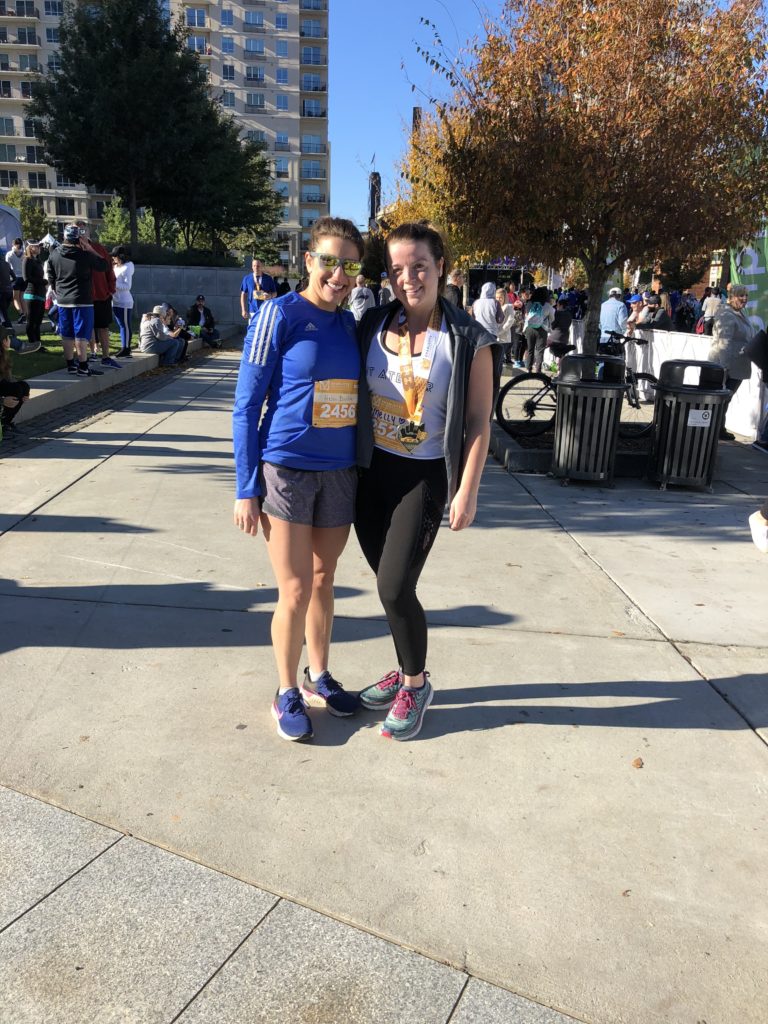 Casey, my speedy friend who just qualified for Boston 2019, runs the 5K with her grandmother and then serves as a pacer for the 3:30 marathoners in the second half of the race. She also runs the last few miles with another dear friend, Maria. It is Maria's first full marathon too!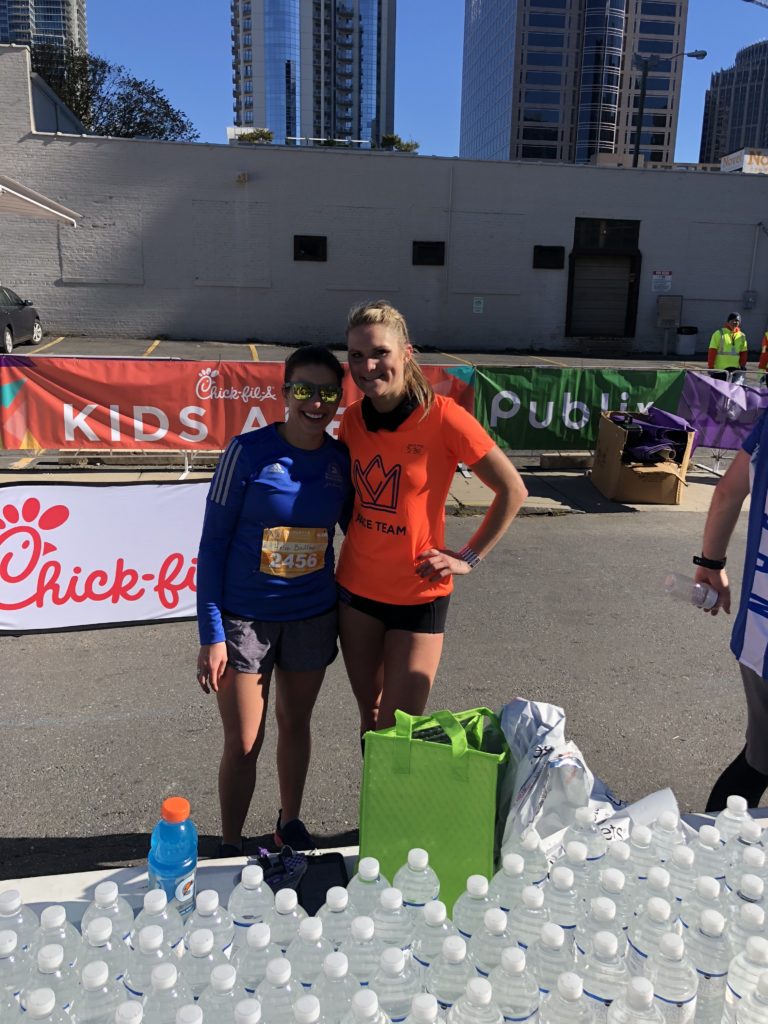 Kayla, daughter of TriYon friend, Michelle, and her fiance Brett. Kayla is currently in dental school at UNC-Chapel Hill. We talk about the challenges of training in grad school. I remember the IT Band problems all too well. Way to finish strong, Kayla!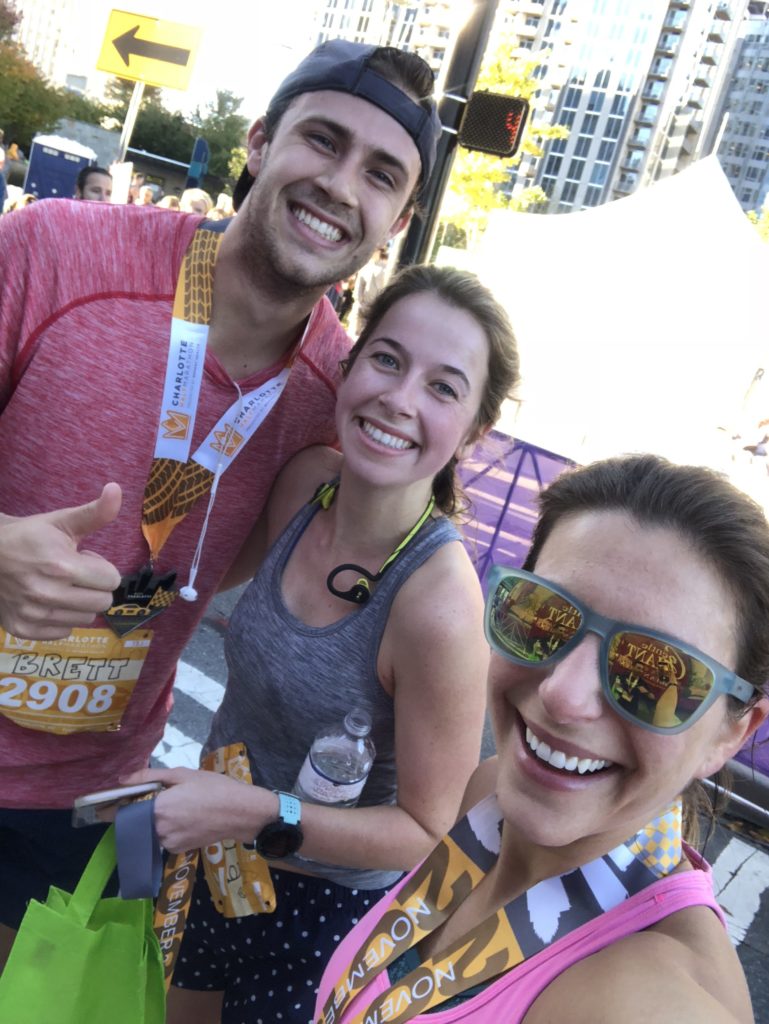 Joe! Our JITFO Van #1 driver at the Blue Ridge Relay and husband to runner friend, Flavia. Great work, Joe!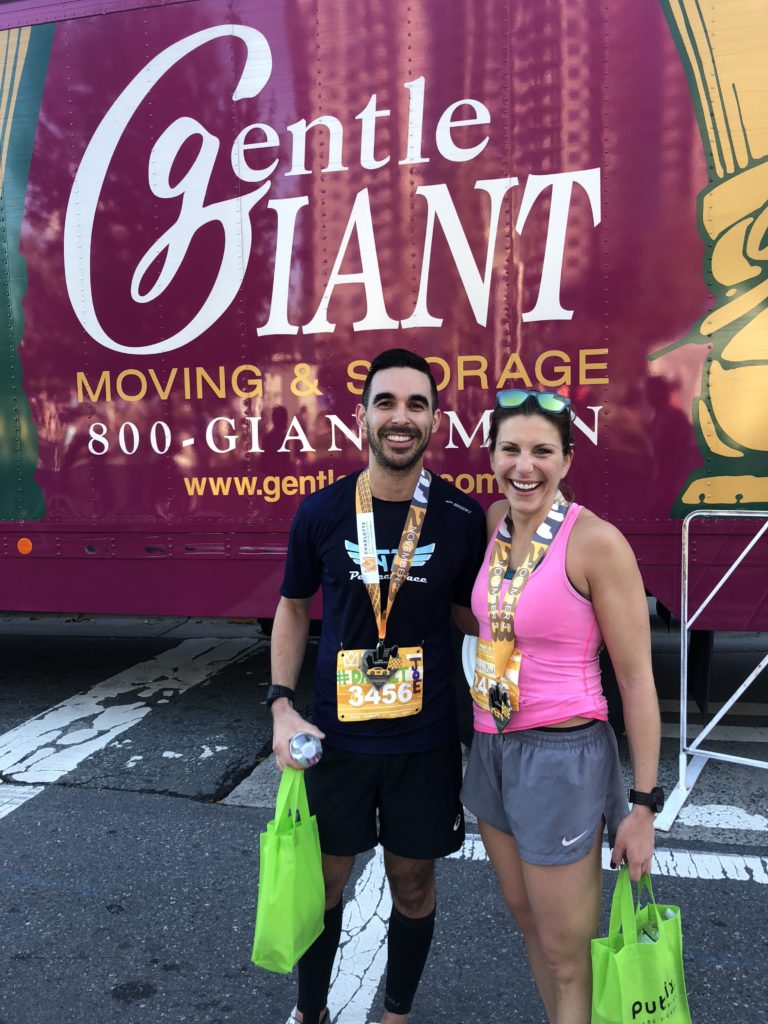 Then I meander down Stonewall and run into a few more runner friends. Here's Franklin and Amanda. Amanda runs a PR for the half and qualifies for New York!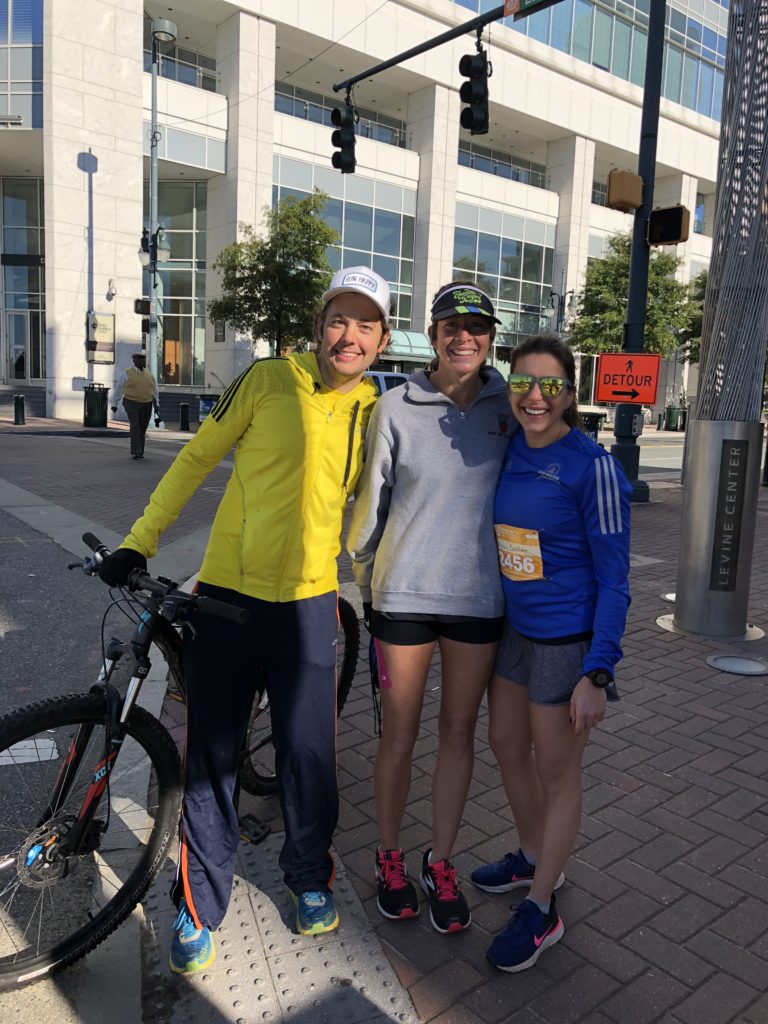 Here's Kat and her crew of 80's prom queens whose cheering station has made it to mile 25.5.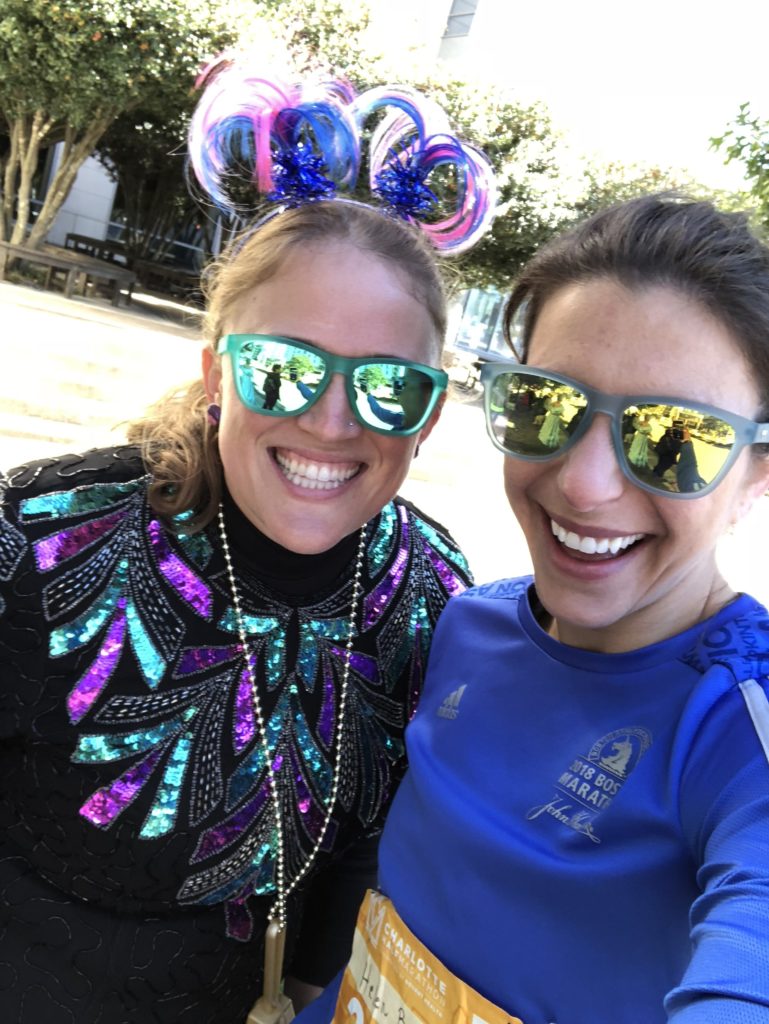 Then I stand, stretch and cheer at the bottom of Stonewall and Charlottetown. I see Charlotte Running Club friends run by. There's my buddy, Jared, about to crush a PR! Here comes Coleman. I wait. I'm waiting for John to come around the corner so I can run the last mile up hilly Stonewall to the finish line with him.
Sure enough, here comes John. Together, we dig deep and push up the last hill, the last mile to the finish line. Pretty sure I say you can, you will, and you're almost there, a few too many times.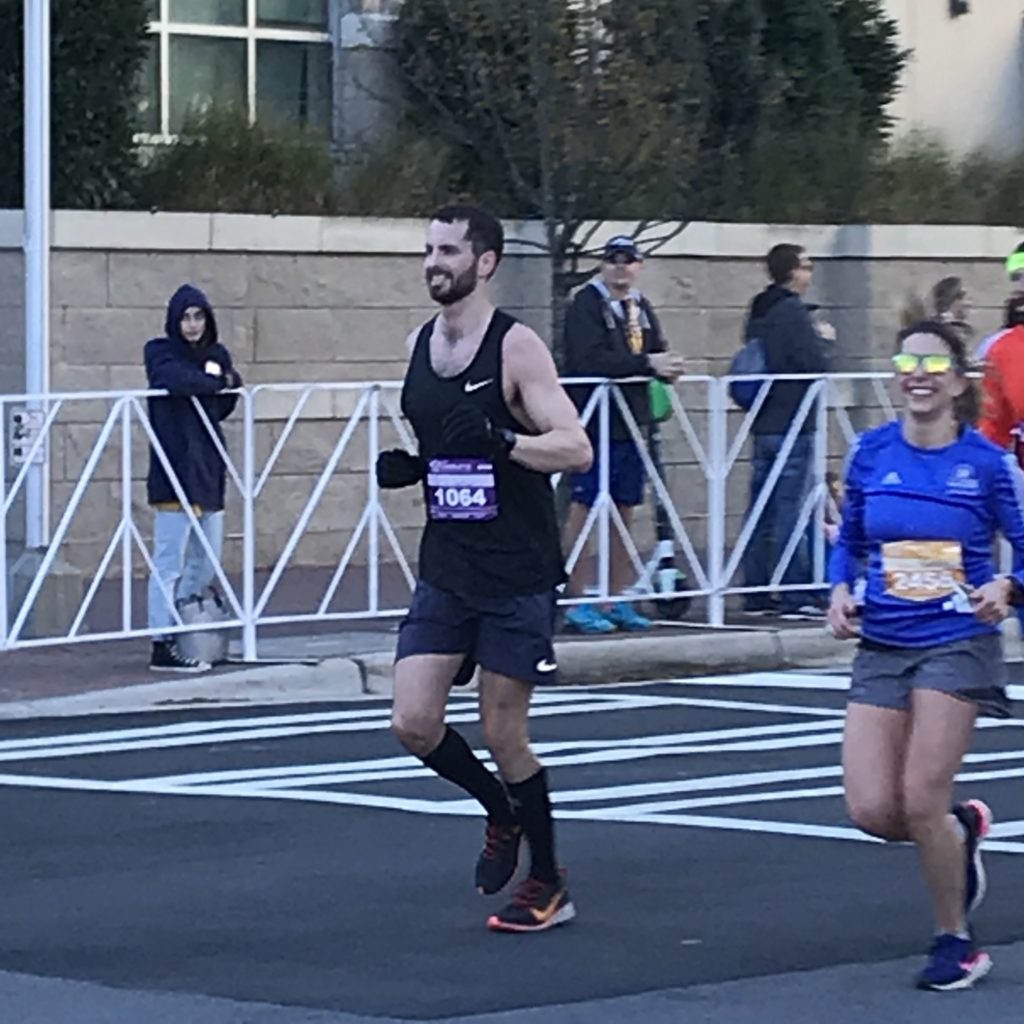 He does it. John crosses the finish line in 3:34, hands in the air.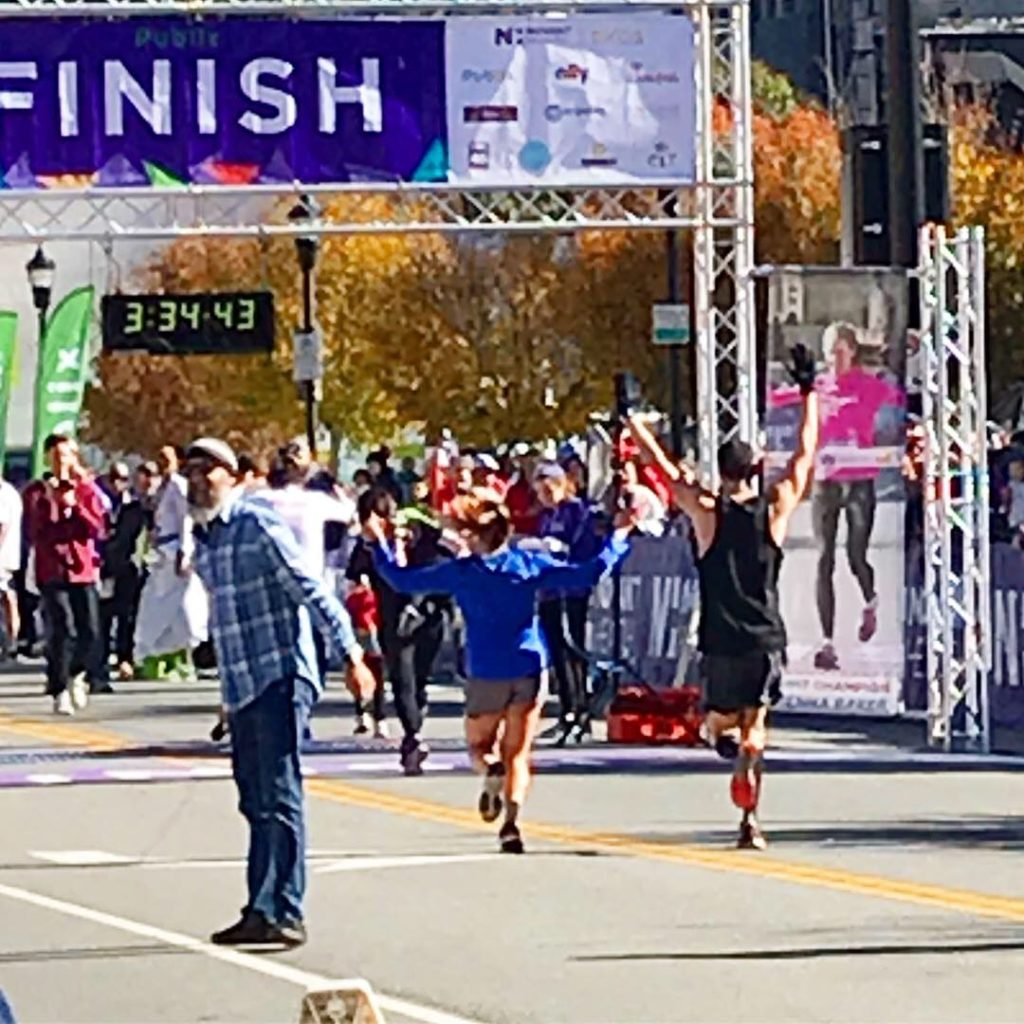 My goal this fall: get John across the finish line. Thanks to Charlotte's fitness and running community, it feels like I crossed the finish line with so many others. Last year, the race felt like any other race. This year, the race feels like home.
I'm so proud of this City, and I cherish the many friendships made in a year.
Here's my message to you:
You know there has to be a takeaway…
Jump in. Whether you're new to a city, a job, a gym or a room — don't hold back, put yourself out there. More likely than not, you'll meet people and do and see things you had not before.
Every now and then, take a step back from your own goals and help a friend accomplish his or her goals. At the beginning of John's training, I didn't quite grasp how much joy it would bring me to help him train, coach him through the struggles and run beside him across the finish line. Rich Roll (one of my favorite triathletes and an excellent podcaster) says, "Do not covet your progress. Instead, give yourself freely and selflessly. Because service is the magic bullet that fortifies our lives with meaning. It provides a transcendent sense of purpose. And most of all, it delivers that which we seek most — joy."
Thank you John, thank you Charlotte friends, for letting me train with you and run with you. Thank you for all you do for me. Thank you for bringing me joy.
See you out there.
H//