Zesty Hummus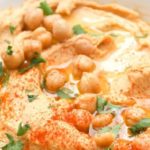 Mkaing homemade hummus isn't as hard as you may think!
15 oz chickpeas (rinsed and drained, skins removed)
1/2 cup tahini
1 lemon (juiced)
1/4 cup olive oil
1 tsp smoked paprika
salt (to taste)
pepper (to taste)
water (as needed)
parsley (fresh; for topping; optional )
Remove the skins from the chickpeas.

Add chickpeas, tahini, lemon juice, olive oil, smoked paprika, salt and pepper to a food processor.

Blend on high, atopping to scape down the sides as needed.

If the hummus is too thick, add water or additional olive oil and continue to blend.

Transfer to a bowl and place in the fridge for atleast 30 minutes.

Remove from the fridge and top with additional olive oil, chickpeas, paprika and/or fresh parsley.

Serve with warm pita, veggies and/or crackers.
Photo from: https://www.thissavoryvegan.com/zesty-homemade-hummus/