A year ago, I did my first round of Whole30 and absolutely loved how I felt after the 30 days were up. I decided I wanted to stick to a similar diet but have a little more wiggle room and freedom, especially when it came to going out to eat. I decided to go the Paleo route and was strict paleo for the past year and a half. I thought it would be difficult, but I found so many great options all around Charlotte. Going out to eat no longer felt like a chore for me but a new way to discover Paleo options.
For those who have no idea what I'm talking about, below are a few things to avoid when eating a paleo diet:
Dairy and dairy products
Legumes (beans, peanuts, lentils, peas)
Refined sugar
Grains (oats, rice, wheat, barley)
Processed foods
I've recently reintroduced some grains back into my diet but when I'm heading out for a meal, I still love to stick to the restaurants and options below (in no specific order)!
YAFO KITCHEN
There are so many options at Yafo for a good paleo meal. You can build your own salad bowl and go crazy with all the pickled things like myself or just go for a quarter, half or full chicken with a side. You can't go wrong with the roasted Brussels Sprouts either! And definitely don't miss out on the lemon tahini. They are located in SouthPark near Air Fit Charlotte and just opened a new location in Plaza Midwood! Full menu here.
MAC'S SPEED SHOP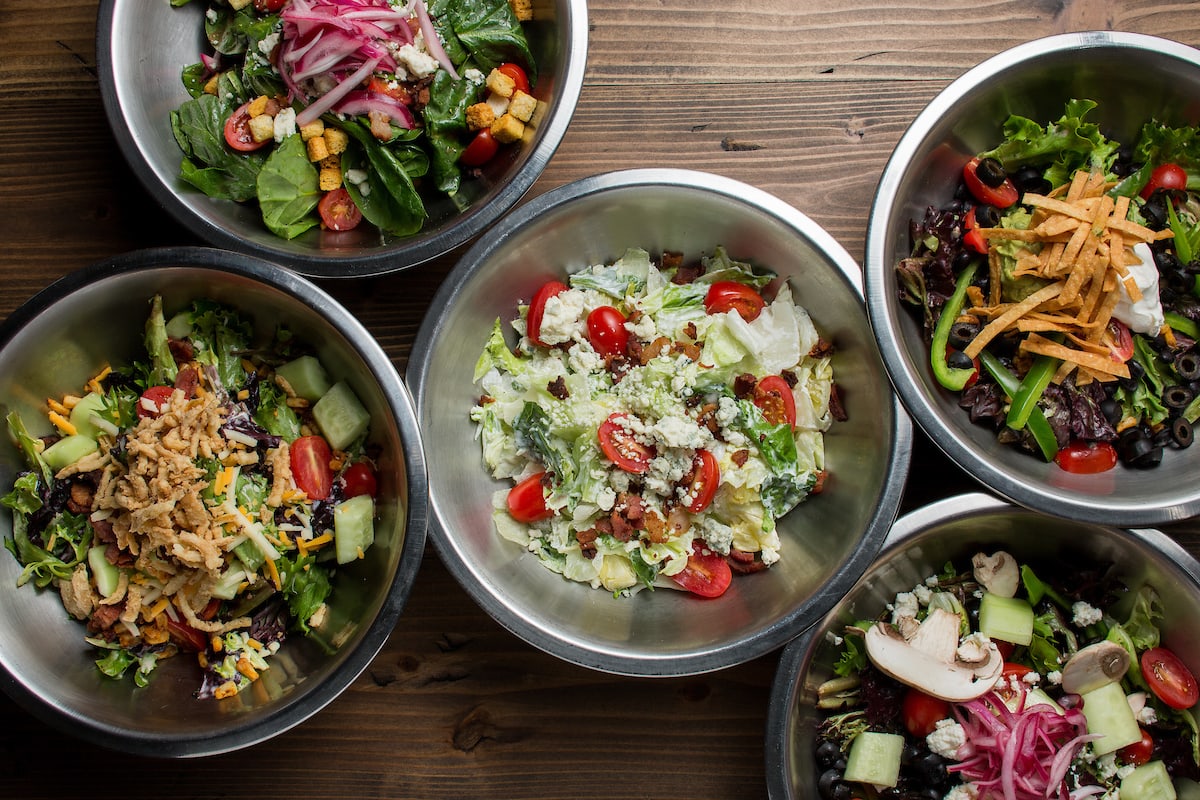 My go to at Mac's: Switchback salad (bottom right in photo) with pulled pork, no feta, add double pulled pork (or shrimp) and avocado. Walk, don't run to order this y'allz. Mac's is located right on South Blvd, you can't miss it. Full menu here.
VIVA CHICKEN
Viva has the BEST rotisserie chicken in town, mark my words…it basically melts in your mouth. Get the Viva Salad with no feta, dressing on the side, add double chicken. Or go for a quarter, half or full chicken with a side of plantains and fruit! Full menu here.
ZEN ASIAN FUSION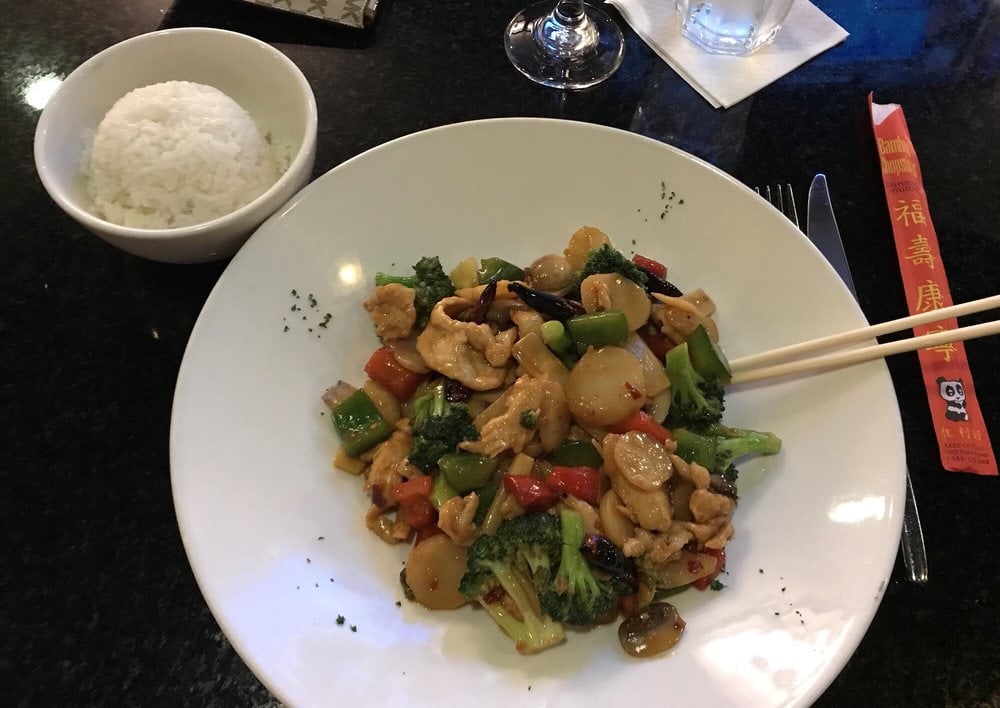 Photo from Yelp
I've been going to Zen for YEARS, even before I went the Paleo route. I wasn't too worried because they have such a huge variety of options to choose from. My favorite order is the chicken and beef steamers (not on the menu, but do it – they'll know what you're talking about). The best part? The chicken and shrimp steamers come in a giant hot pot with steamed veggies so it's more than enough food. The steamers come with a side of rice so my fiancé loves that he gets my side of rice. I personally love to order the steamers for take-out and come home to pour coconut aminos all over (salivating right now). Zen is quietly tucked away behind Menchie's on East Blvd in Dilworth. Full menu here.
LIVING KITCHEN

Photo from Living Kitchen on Facebook
I think I have ordered just about every single thing on the menu at Living Kitchen (formerly Luna's Living Kitchen). Luckily, they just updated their menu so I get to start all over! I have so many paleo favorites and because they are a "raw" restaurant, it's so simple to find something to eat here for any meal. My favorites include the Living Burrito, Arugula Harvest Salad, Broccoli Mushroom Pizza and the Rawko Taco Salad. They even have paleo desserts! Fun fact: they make all of their nut-milks and raw treats. They're located in Atherton Mills off of South Blvd. Full menu here.
LINCOLN'S HABERDASHERY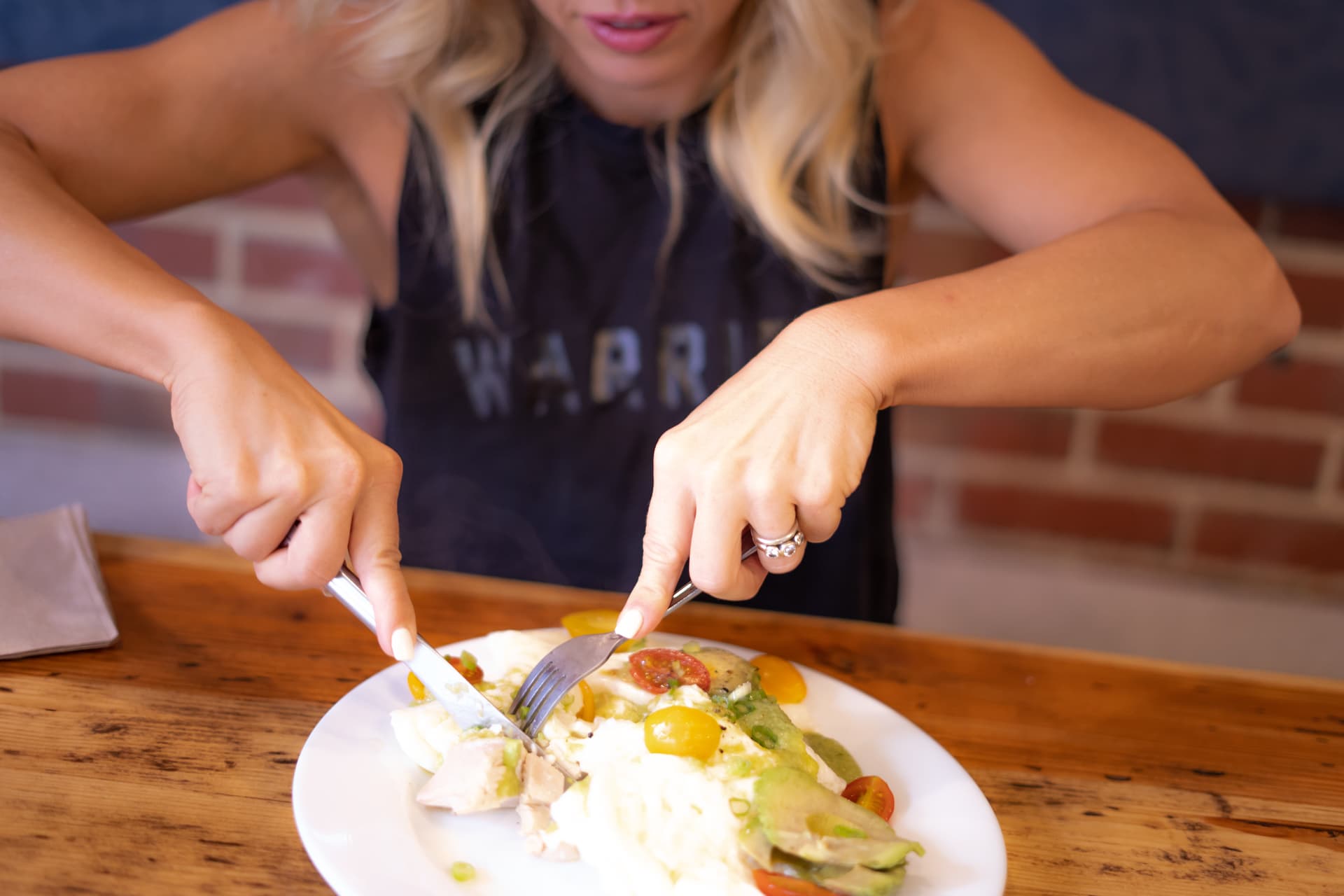 Everyone knows the SweatNET team (Grace, Tom and myself) lives at Lincoln's. I wouldn't survive if they didn't have such great go-to's for my paleo diet. The Came Together is a Paleo'ers dream and you don't have to be that person who adds and gets rid of certain ingredients. Poached chicken, a massive, fluffy egg white omelet topped with avocado, tomatoes and the most delicious salsa verde. Your non-Paleo, gluten-loving friends will also love you for the recommendation. Full menu here.
ROOT'S CAFE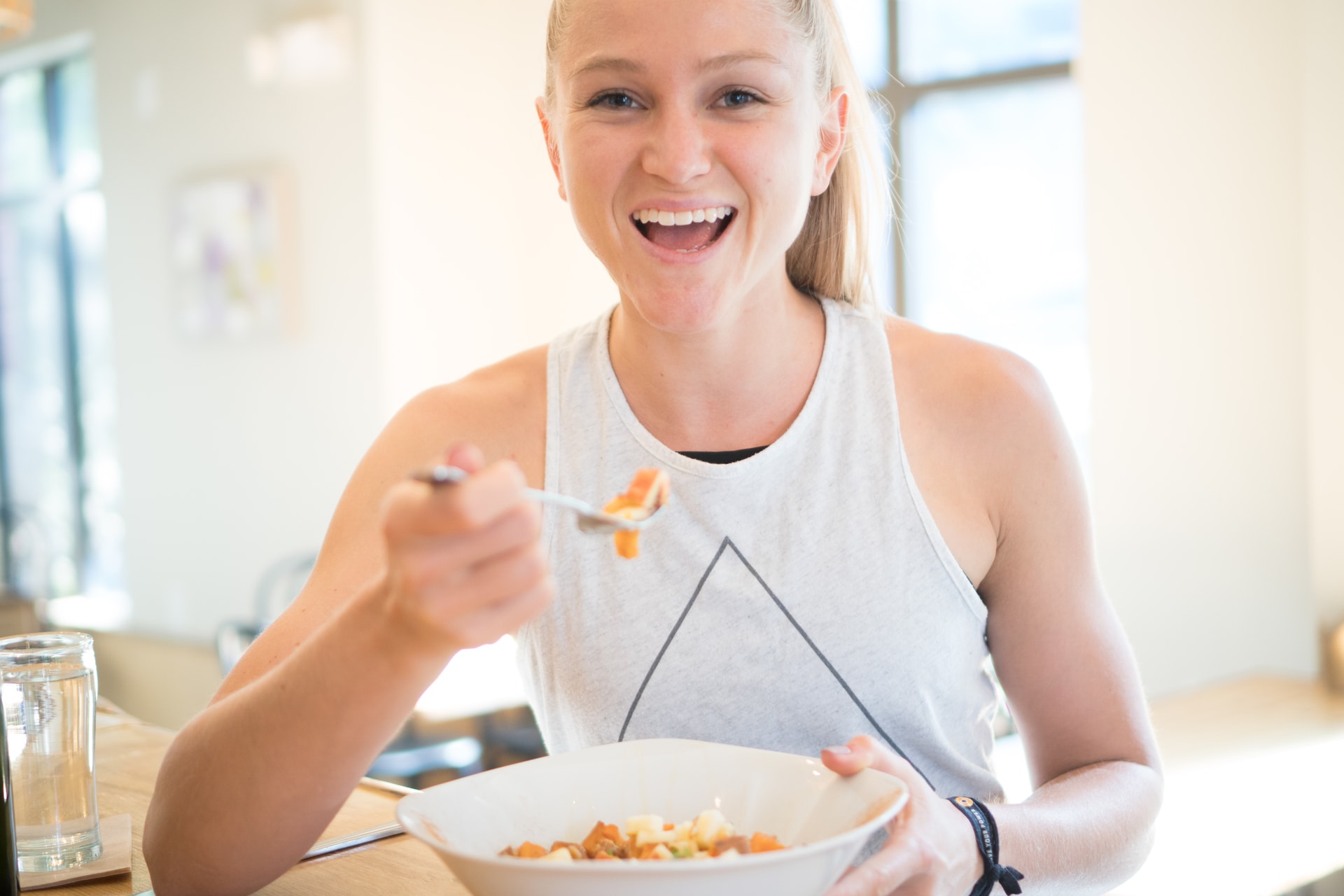 I discovered Root's Cafe after my former favorite quaint cafe, Cluck 'N Cup closed (R.I.P.). I was so bummed at first but after trying out the new tenant, I forgot all about them. My favorite thing about Root's is that you can tailor pretty much any dish depending on your dietary restrictions and they don't give you attitude about it (we've all been there). In fact, they will help you pick out an option and fully accommodate your needs. Their ingredients are locally sourced and carefully crafted. For lunch or dinner, I love the candied lemon and avocado salad, no greek yogurt, add chicken. However, their brunch menu is where it's at! My favorite is the Side Roots Hash w/ Tomato Gravy with Hickory Nut Gap Chorizo. They're also a partner of SweatNET so I make sure to use my discount when I'm there! You can find them right off of South Blvd in Dilworth/South End. Full menu here.
I LOVE JUICE BAR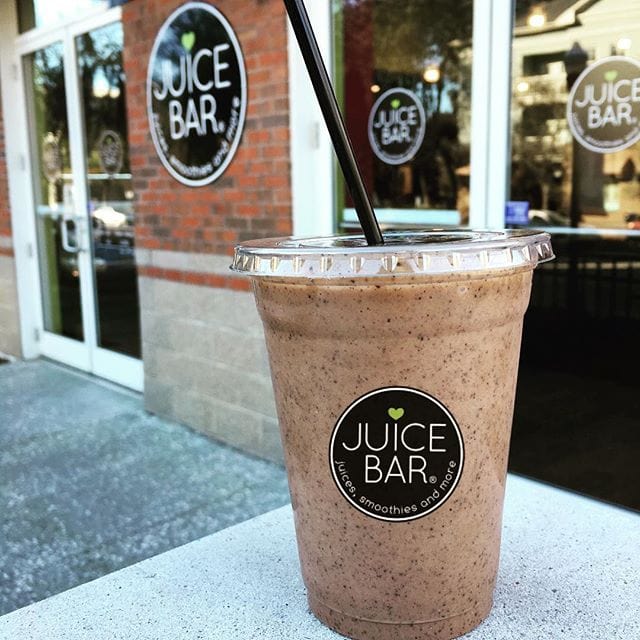 Grab The Blue Chocolotta or The Coffee Janet and be sure to use your SweatNET membership for a discount! On top of I Love Juice Bar's smoothies, they have juices, food, açai bowls and they also sell paleo goodies from muffins to cookies and more! I like to snag a couple of RXbars when I'm in a pinch, too! They have two locations in Charlotte including Park Rd Shopping Center and Providence Plaza (next to Flywheel). As well as locations in Mooresville and Belmont. Full menu here.
CAVA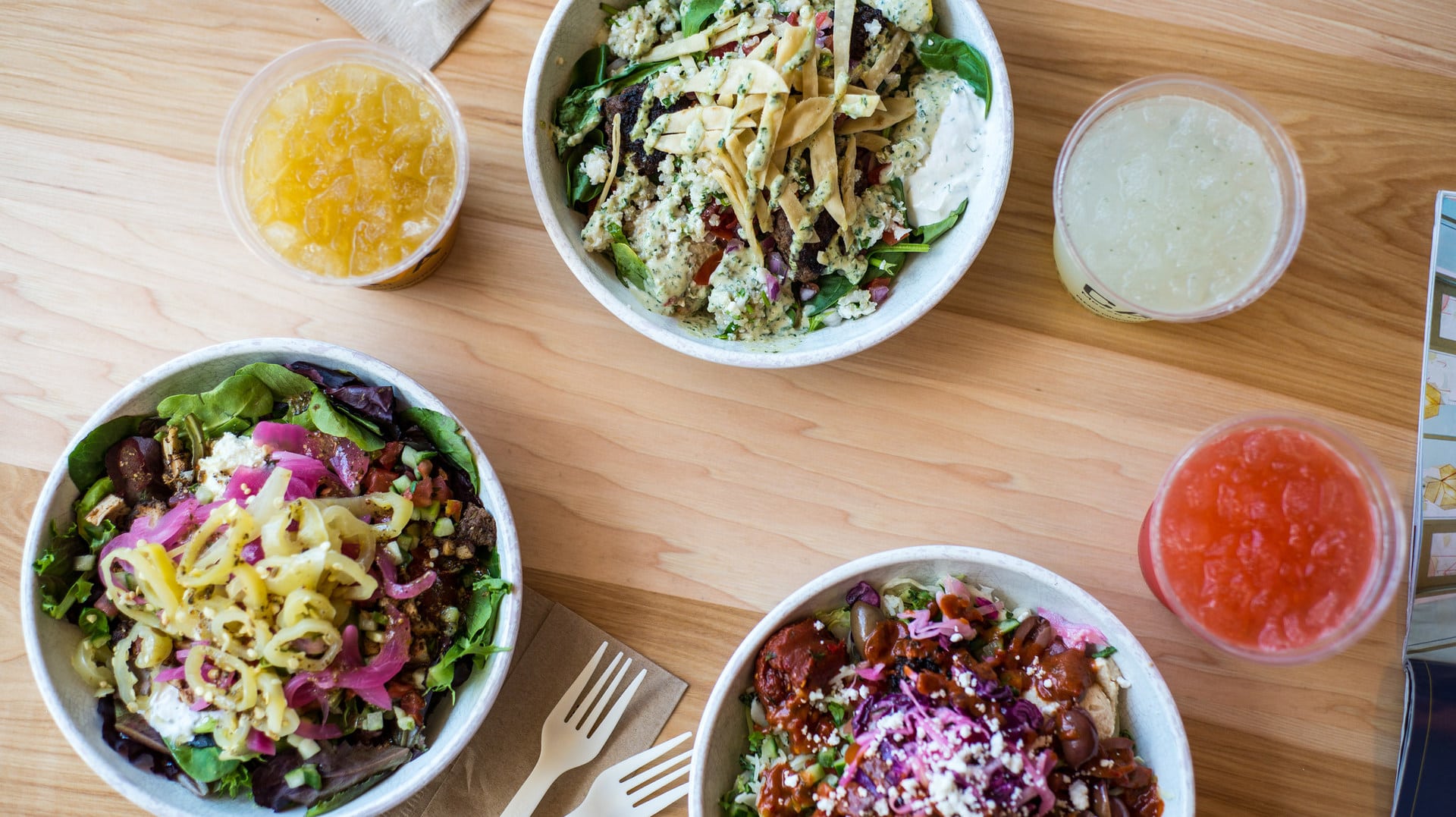 Photo from CAVA
I discovered CAVA when I was living in DC, so when I heard they were coming to Charlotte I was PUMPED. I also heard they just merged with Zoe's (another one of my Mediterranean favs) so I'm expecting them to be popping up like crazy in Charlotte pretty soon. If you haven't noticed, I clearly love anything Mediterranean and any place where you can build your own bowl. My go to is a salad bowl with chicken or lamb topped with roasted veggies, pickled onions, more veggies, and their lemon herb tahini or lemon oregano vinaigrette. NOM! Right now they only have two locations in the university area and in Huntersville which are worth the drive in my opinion. Full menu here.
PROJECT LEAN NATION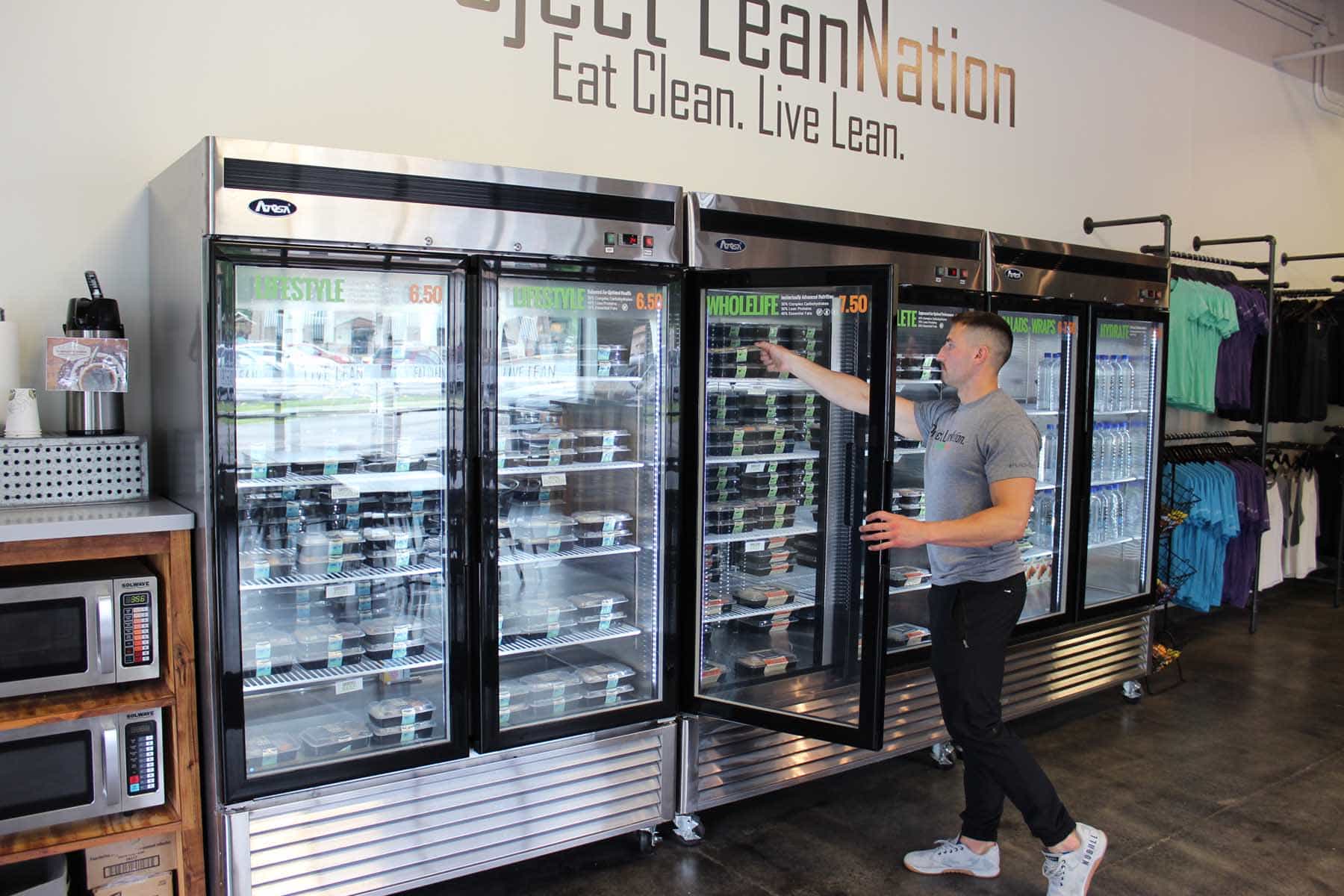 Photo from Project LeanNation
You probably recognize their name and see all of the inspirational messages on people's smoothie cups but did you know PLN had Paleo options in their grab and go fridge?? Get the Paleo Power Cakes for breakfast (or any time of day) and thank me later. If you want to feel inspired, check out this article. SweatNET members also get a discount on their boxes of PLN meals! They're located in South End, near Sycamore Brewing. Full menu here.
BAD DADDY'S BURGER BAR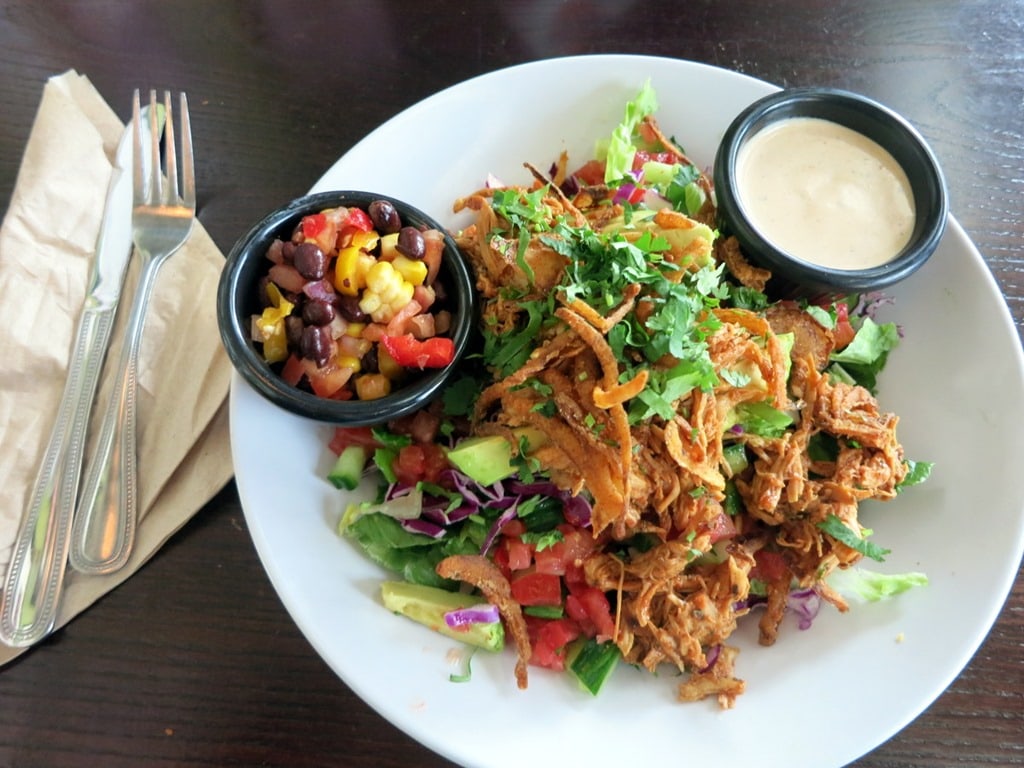 Photo from @pbfingers

Build your own salad OR build your own burger on lettuce with a side of fruit. It really doesn't get much easier than that! Bad Daddy's is located in Dilworth right on East Blvd, Ballantyne and Birkdale Village. Full menu here.
If you haven't figured it out by now, there are SO many places in Charlotte you can eat without sacrificing your diet. Check out one (or all) of the places above if you haven't already!