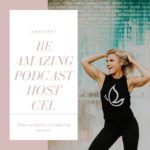 Be Amazing Podcast host Cel Smart sits down virtually with Sam Horne, owner of Neighborhood Barre Concord, wife, mom of 3 and 2018 Tone It Up Winner. She talks about everything from running a studio during COVID, her passion for fitness and community, growing up as a competitive cheerleader, raising 3 kids (including her twins with cataracts) and more!
Follow Sam Horne on Instagram!
Follow Neighborhood Barre Concord on Instagram!
Music credit: https://josephmcdade.com/music Check out his website!