Just like working out, when it comes to shoes not every pair is right for every person. And not every pair is right for every workout or activity you do. I get asked a lot about my shoe preferences so I figured I'd share all about which shoes I wear for each specific training activity.  (and a few others just for fun! )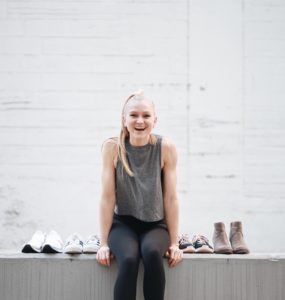 Favorite Cross Training Shoes:
I couldn't pick one because I alternate between two that I really love so…
Nike Metcon Flyknit

Nike Air Zoom Strong
Both of these shoes are really great for activities like gym workouts, weight lifting, short sprints, etc. They are extremely lightweight, low to the ground and supportive. I never feel like I'm going to slide out of them when I'm running suicides or doing any lateral movements like some other shoes I have tried in the past (aka my Adidas Ultraboost X's). I would never run more than a mile in either pair of these as they're not super cushioned. This leads me to running shoes…
Favorite Running Shoe:
These shoes are really great for running longer distances. They're super light, stable and supportive. The material is extremely breathable and comfortable on your foot. Honestly, it feels like I'm running on a cloud!  I've run multiple half marathons in these shoes and have never ever had an issue!
Favorite Everyday Shoe:
These are probably the comfiest shoes I have ever worn in my life. Sometimes I debate even wearing socks with them because they are practically socks. That being said, I wouldn't recommend working out in them unless it's just running a mile or two. I wore them for one cross training workout and my feet were sliding out the entire time. Might've rolled my ankle a couple times as well but luckily never hurt myself lol. So, these have been deemed as my "want to look like I'm going to a workout but I'm not" shoes.
Favorite Shoe for when I want to be casual but still sporty:
I LOVE my superstars because they're so versatile. I can wear them with jeans, with leggings, or even with a dress (yes I've done it). However, I would not recommend working out in them!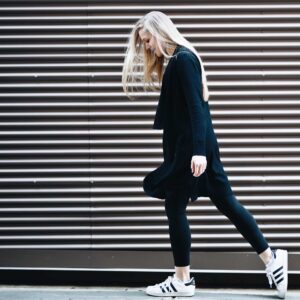 Favorite Spin shoes:
These are my absolute favorite and arguably the cutest spin shoes I've ever worn. But the best part is that you can actually walk around in them. They have a SPD clip on the bottom so they can be used with pretty much every bike (including CycleBar and FlyWheel) but you should still check with your spin studio if you're unsure. I'd recommend going down a half size so they're snug on your feet! Oh and ps: they are Velcro!
Like I mentioned previously, it's important to remember that not everyone is the same. So, what shoe works for me might not work for you! It's all about trial and error when finding the right one for you.
Hope this helps!
Erin