I am at the grocery store almost every single day. Yep, you read that right! Every. Single. Day! It's ok though, I love grocery shopping. I love knowing all of my grocery stores and who has the best of a certain thing. What I really love the most though is going to the farmers market.
Here in Seattle, we are lucky to have a few year round markets and a TON of markets that open up during the week in our warmer months, think May to the end of September. It can be tricky to figure out when and where the markets are because we have two different associations that put on farmers markets. Here is a list of my faves in the Seattle area and I have them broken down into year round and seasonal.
Year Round Markets
#1 Ballard Farmers Market – http://www.sfmamarkets.com/visit-ballard- farmers-market/ This market is perfect for anything and everything. It is right on Ballard Ave and they have a great mix of produce, flowers, prepared food vendors and tons of local artists. You also get the pleasure of popping into the shops that line Ballard Ave: Kavu, Patagonia, Salt & Straw, The Other Coast, Ballard Consignment and The Palm Room, just to name a few! Open Sundays from 10am – 3pm
#2 University Farmers Market –http:// https://seattlefarmersmarkets.org/markets/u- district Opened in 1993, this market has been in Seattle for quite some time!! This market is primarily for meat and produce but you can also find flowers and prepared foods. Stalls lining University Way in front of the beautiful University Heights Center are always overflowing with great local produce. Check it out and maybe you will find something new to eat! Open Saturdays from 9am – 2pm
Other year round markets worth a visit: Capital Hill Broadway Market Sundays from 11am – 3pm https://seattlefarmersmarkets.org/markets/broadway West Seattle Market Sundays 10am – 2pm https://seattlefarmersmarkets.org/markets/west-seattle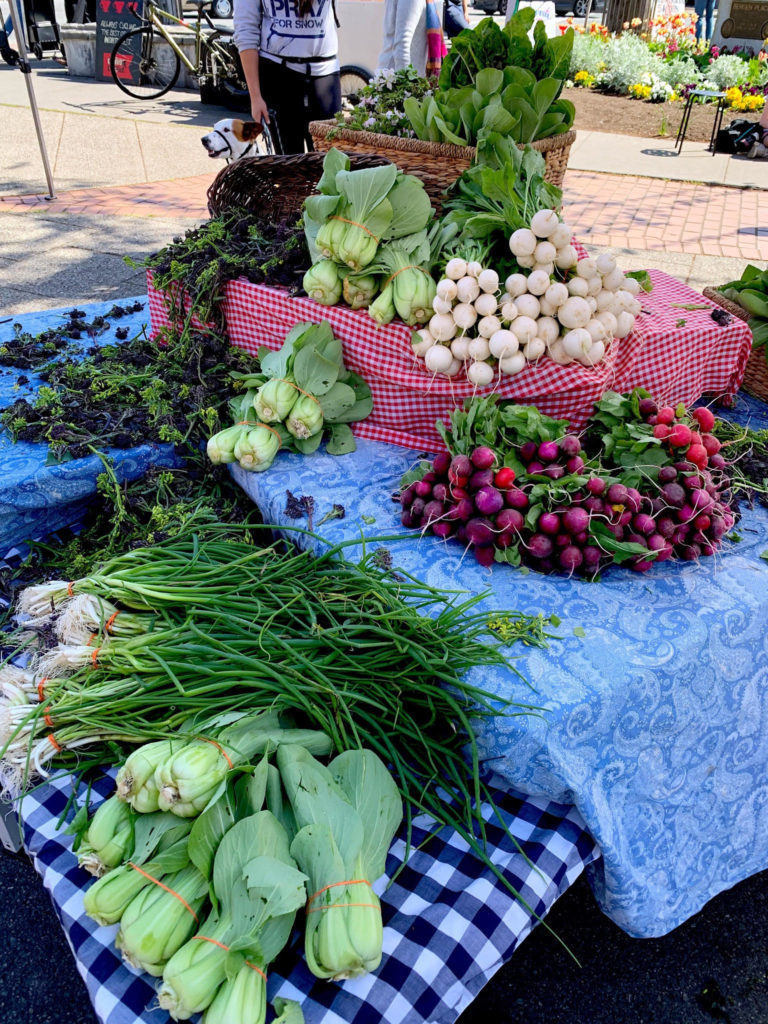 Seasonal Markets
#1 Queen Anne – https://qafm.org/ In the summer this is one of my all time favorite markets, it is small but mighty! They generally have lots of fruit and veggie vendors, beautiful flowers as well as a whole section dedicated to food trucks. If you have little ones, the market association generally has a booth with a craft for the kiddos to participate in. If you need anything else, there are plenty of grocery stores around to round out that shopping list! Open May 30th – October 10, every Thursday from 3pm – 7:30pm
#2 Phinney Ridge – https://seattlefarmersmarkets.org/markets/phinney This little market takes place in the parking log of the Phinney Ridge Community center and has all of the quirk and charm of its surrounding neighborhood. I generally go here on my way home for a special treat or some flowers to brighten up the table. With just a handful of produce vendors mixed in with the food and flower vendors, it is not going to be your one stop shop but you will certainly leave with a smile on your face. Live music and yummy bites always do that to me! Open June 7th – September 27th, every Friday from 3:30pm – 7:30pm.
Other seasonal markets worth a visit:
Magnolia Farmers Market Open June 1st – November 23rd, every Saturday from 10am – 2pm https://seattlefarmersmarkets.org/markets/magnolia https://seattlefarmersmarkets.org/markets/magnolia
Wallingford Farmers Market Open May 15th – late September, every Wednesday from 3pm – 7pm http://www.sfmamarkets.com/visit-wallingford-farmers-market
Columbia City Farmers Market Open May 8 – October 9, every Wednesday from 3pm – 7pm https://seattlefarmersmarkets.org/markets/columbia-city
This article was written by Heidi Nellessen the owner of Manifest Kitchen PNW. @manifestkitchenpnw