We are very lucky to live in a city that believes in providing a diverse fitness community, and one of the most popular workouts that you can find at a vast amount of studios, is barre!

If you have ever taken a barre class before, you know the love-hate relationship that comes with the practice. Barre combines moves from some of your favorite workouts, including ballet, Pilates, dance, yoga, and strength training, making it one of the most killer workouts for toning and fatiguing your muscles. The emphasis of each class is placed on proper alignment, balance, and core engagement, which means that the class moves at a slower pace. It will also assist in improving your flexibility, and is the perfect low-impact solution for those who need one. So if you're looking to get your split, or enter a limbo contest, this is the perfect way to limber up. In a typical barre class, you can expect a variety of accessories to accompany your workout, including: leggings, bare feet or sticky socks, and a handful of light weight equipment, such as weights, balls, bands, mats, and of course, a barre.

Whether you're currently active, or looking to become more so, barre is the perfect complement to your fitness plan. Your body will be challenged to perform movements that it has never been asked to perform, but are important to incorporating a well-rounded plan of fitness.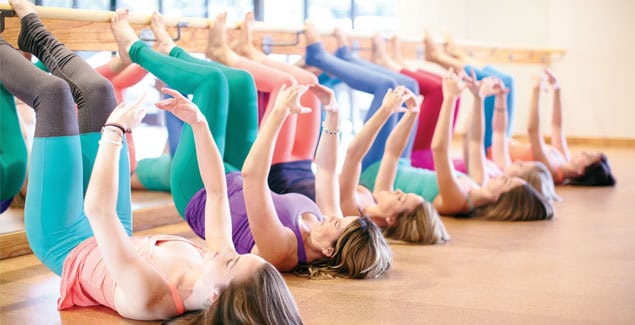 So if you're looking to try your first barre class, or just expand it, here are 8 of our favorite places where you can pulse and stretch.

Pure Barre: Pure Barre promises to provide a total body barre workout, and they own up to this promise. Walking into a Pure Barre studio, you're greeted warmly by the instructors, who have a knack for learning everyone's names very quickly and shouting out words of encouragement throughout the class.
Where: Ballantyne, Myers Park, South Park or Birkdale Village
Equipment Used: bands, barres, balls, and floor work
Specials: first class is free, or receive an $18 drop-in with your SweatNET membership
Barre3: Each Barre3 class follows their 3-step signature approach of utilizing sustained holds, micro-movements, and big bursts of cardio to create a balance in your body. You're guaranteed to leave each class feeling empowered (and sore).
Where: Fort Mill and South Charlotte
Equipment Used: Core ball, resistance bands, light weights, mat
Specials: $17 drop-in with your SweatNET membership
The Barre Code: This studio, founded in Denver, CO, is one of the newest studios to join the Charlotte fitness community. Offering three different classes, the Barre class and Total Body Conditioning are the ones that you will want to try.
Where: NoDa
Equipment Used: Medicine balls, barre balls, bands, resistance bands, etc.
Specials: $20 drop-in and 10% off of any class pack with your SweatNET membership
Neighborhood Barre Concord: Neighborhood Barre's mission is to offer all clients, regardless of their skill level, a quick, effective way to work towards a full body transformation. A judgement-free zone is the most important thing they offer for any and all students looking to become immersed in barre.
Where: Concord
Equipment: Gliding Discs, ankle weights, and other resistance equipment
Specials: $16 drop-in with your SweatNET membership
Turn and Burn Fitness: Providing a more athletic approach to barre, with an added cardio element, their Raised Barre class is sure to bring the fun and the burn.
Where: South Charlotte
Equipment: Varies
Specials: $12 drop-in with your SweatNET membership

6. Hilliard Studio Method: This core-burning method developed by a mother-daughter duo, is guaranteed to leave you feeling the presence of abs after just one class. Try one of their 3 class options:The Method, The Essential Method, The Express Method.
Where: Myers Park
Equipment: Varies
Specials: Buy one class, get one free

7. FlyBarre: You may know Fly for their cycling, but did you also know that they offer barre!? Take one of their 6 different Barre classes to receive the ultimate burn: Core, Power, Classic, Sweat, Arms & Abs, Lower Body
Where: Myers Park/Cotswold
Equipment: Light Weights, Barre balls
Specials: $18 drop-in

8. MoveStudio: One of the most unique studios in Charlotte, MoveStudio is a one-stop-shop for all things dance and movement. Take a barre class with award-winning choreographer Jackie O'Toole to get not only a good grasp of the basic barre moves, but a killer core workout.
Where: Belmont/Plaza Midwood
Equipment: Barre Ball
Specials: $10 drop-in

9. Fit4Mom: A program specifically designed for moms and expecting moms, wanting to ease safely back into fitness and their pre-baby bodies, Fit4Mom offers a handful of classes that focus on strengthening your core muscles and increasing your confidence while working out with your little ones!
Where: Lake Norman
Equipment: Yoga mat, stroller, sunscreen
Specials: 50% off a 10-class pack

10. Hive Fitness: Get excited because Hive Fitness is moving into their new studio space so soon! You can expect to continue enjoying a handful of class offerings, including barre, at their new LoSo location, next to Sugar Creek Brewing! In the meantime, take one of their pop-up barre classes at a variety of locations around the city!
Where: LoSo
Equipment: Varies
Specials: Coming soon!

11. AIR: A different approach to a classic workout, at AIR, you trade in your barre, for an aerial hammock. The hammock gives you the same core workout, stretch, and intentional workout as you would receive at a normal barre class, but in this one, you get to flip upside down!
Where: Myers Park or SouthPark
Equipment: Aerial Hammock, light weights
Specials: $10 drop-in

12. Charlotte Athletic Club: A gym that truly offers it all, CAC brings you a barre workout that perfectly complements your high intensity interval training regimen. Focusing on the lower body and core, you're guaranteed to increase strength and flexibility from your ankles, all the way up to your glutes
Where: Uptown (2 locations: Duke Energy or Bank of America)
Equipment: Varies
Specials: 15% off all class packs

13. First Wind Cycling: Mix two of your favorite workouts in First Wind Cycling's barre class, Ride to the barre. In this workout, you'll spend the first half of your class on the bike, and end the last half of it taking an intense, yet rewarding barre class!
Where: South End currently, but they will be moving to The Space in Plaza Midwood in September!
Equipment: Light weights, barre ball, yoga mat, resistance bands
Specials: $10 drop-in